Make Calls & Send Texts Without Using A Cell Phone Plan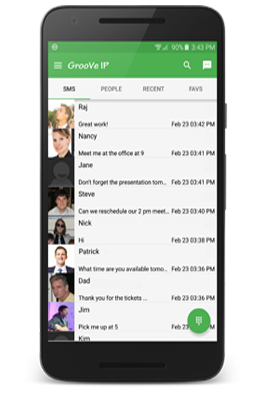 Turn your Android device into a low coast phone. Get a US phone number fro $1.00 that will be able to receive calls and texts from anywhere in the world. In addition, you will be able to call and text anyone in the US and Canada using Voice over IP (VoIP) technology.
GrooVe IP works on any android device, mobile phone or tablet, and allows you to make calls using the device's data (WiFi or mobile data) connection.
Available for both Phones and Tablets
Introducing GrooVe IP for Commercial Use
If you wish to use GrooVe IP for business purposes, possibly with a requirement for multiple phone numbers, please check out GrooVe IP – Commercial! You can do phone number management from our web site, or by using our APIs from your server. Use the enterprise version of GrooVe IP free of charge or any standard SIP client of your choice. In addition, use our APIs for sending/receiving SMS. Both prepaid and postpaid plans are available.
More information / Sign-up
''GrooVe IP is a great app that makes it simple to use VOIP on your Android smartphone without using your cellular minutes.''

App Store User Review